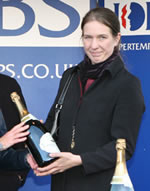 Suzy was born in Epsom and her involvement with horses started from an early age as a young member in the Pony Club.
She began riding racehorses at 14 for various local trainers. As a qualified riding instructor by the age of 16, she went on to spend time as head girl at competition yards around the country. At 18 Suzy decided to train racehorses and after speaking to several trainers she headed to Newmarket and gained the National Stud Diploma.
Suzy has earned a reputation for having a high strike rate of winners to runners. She is also known as having a good eye for horses with winning potential and has found several good horses for her owners over the years by either private research or by very careful selection at the sales. Her first winner was the much celebrated one eyed mare Material World (GB) who went on to run a total of 19 races and despite the weight loadings applied by handicapper, won prize money in 16 of them.
You can often see Suzy's horses at jumping tracks like Plumpton, Fontwell, Sandown and Kempton, while over the last five seasons (2014-2019) she's won over 30 races and banked £275k in total prize money.
VISIT THE SUZY SMITH RACING SITE HERE